KE Global launches Entrepreneur Cell in Mangalore
Mangalore, Jan 22: Kanara Entrepreneurs (KE) Global conducted a workshop on 'Inspiring the next generation of Entrepreneurs'  as part of the launch of the Entrepreneur Cell at the St. Aloysius Institute of Management and Information Technology (AIMIT), Beeri, Mangalore on 21st January 2011. The three hour session kept the young audience glued to their chairs listening to some of the inspiring presentations from existing and potential entrepreneurs.
In his welcome speech, Fr. Denzil Lobo, Director of AIMIT declared that this was a red letter day in the history of AIMIT as it now gives a platform of support to all those students who have the passion to be entrepreneurs.  He said that we want our students to be the world's best entrepreneurs and to achieve it the Entrepreneur Cell will receive mentoring support from KE members who are all successful entrepreneurs from this region.  He was happy that in the last four batches that have passed out, four students have started their own businesses.  He reiterated that by setting up your own business, you not only make yourself independent but also create opportunities to several others around you.  He thanked all the KE members who have come down from Bangalore and the Gulf to support this initiative to help these young people take up entrepreneurship.  'It should be your desire to be an entrepreneur, you cannot succeed unless you struggle, and all successful entrepreneurs have overcome their struggles to be successful' he said in his message to the young entrepreneurs.
In his presentation on 'KE Global – Nurturing Entrepreneurs', Ivan Fernandes, Chairman of KE Global spoke on what it takes to be an entrepreneur. He spoke on his journey as an entrepreneur and how he withstood his passion as well as KE Global's objectives and how it can support young entrepreneurs.  In his presentation, he gave the opportunity for the young audience to hear to several of our successful entrepreneurs through video clips.  Ivan said that it is not important for you to have a strong family background or deep pockets before you jump into the entrepreneur bandwagon.  You just need to have the passion and the self-confidence that you are capable of achieving your dream.  While the path is risky, as long as you have the 'never give up' attitude and stick to your passion you will be able to achieve your objectives, he said.  Success is not all about money but the satisfaction of achieving your objectives.  Money is always a byproduct and most successful entrepreneurs end up making money.  He stressed, that all successful companies had a well knitted team, it is the team that succeeds, not individuals.  Your business plan must have a value proposition that the market will embrace and you need to know the best mechanism to provide this value to your customers.  While speaking on KE Global and its objectives, Ivan mentioned that it was started to build a network of entrepreneurs from the Kanara region to encourage and support potential entrepreneurs.  While in the past there were no organiz
ations to mentor new businesses and as a result they had to go through every pitfall and experience it themselves, today with some of the entrepreneurs coming forward to share their experiences and help young entrepreneurs with their business plans, it gives a huge boost to all the young potential entrepreneurs to get going.
This was followed by an inspiring presentation from Mr. Claudius Pereira, Director of Mentoring at KE Bangalore.  Claudius spoke on 'Do you have it in you – Ideas for today and tomorrow'.  He spoke on why each one of us is a born champion.  How our Gratitude with Attitude dictates our Altitude.  He gave specific examples on how great personalities such as Amitabh Bachan, Rajnikanth and Sachin Tendulkar have climbed the ladder of success through their attitude and gratitude.  He also said that this is the era of communication and to be successful you need to have a clear communication strategy.  To be an effective communicator you need to think, listen and speak.  He went to describe the struggle of an entrepreneur to that of a cocoon which struggles to break open the shell and gain strength for its wings.  'Your personality is a combination of your skills, attitude and knowledge and it is you who blends it to make it your own' he said.  While knowledge can be acquired, attitudes can be changed while skills are in born that can always be sharpened.  He spoke on three types of people – survival oriented, maintenance oriented and growth oriented and stressed that as entrepreneur you need to be growth oriented to make it happen.  In the current era, to be successful you need to ensure that you use your mind, skills and tools available to you.
Mr. Praveen Prabhu, COO of BuildID and Foradian Technologies who is an alumni of AIMIT, then shared his experiences of how he feels becoming an entrepreneur.  He said while the initial period was very tough and they were not able to make any major breakthrough, their quick response of creating the soft font at the launch of the Indian Rupee symbol last year put them in the limelight.  He stressed that this incident made them change their vision to KISS – 'Keep it simple stupid'.  He said that it is not necessary to have a complex solution to succeed but most of the time it is a simple solution that is applied at the appropriate moment.
This was followed by another presentation from Melroy from Maritz Pharma, which was launched a few months back.  Melroy, a student of last year's batch at AIMIT mentioned how they had to think differently and apply a total different approach in selecting and distributing pharmaceutical products as there are already more than 17,000 pharma distributors in India.
The last part involved two final year students – Ajit Deshpande and Sreekanth V.  These students have a business idea to provide biometric solutions to the hospitality industry to improve customer service.  They put forward their thoughts and ideas to the audience and why they think it is worth venturing out in implementing such solutions.
Fr. Ozzie Mascarenhas, Chairman of the Business School summed up the proceedings.   In his concluding remarks he said that such a Cell is mandatory for every institution as unless the students have an opportunity to mingle with existing entrepreneurs and get tips on the practical aspects on the reality of running businesses, they will base it on theoretical aspects that they learn in college, which does not help them when they venture out.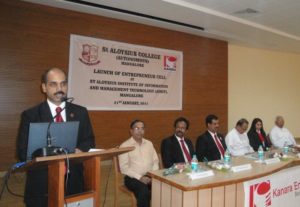 The program was well conducted by Mr. Anil Rego, the Director of Events at KE Bangalore.  Mr. Charles Gomes, President of KE Bangalore proposed the vote of thanks and Mrs. Shobha Mendonca, President of KEL, Dubai presented bouquets to all the speakers. The event ended with networking over refreshments.  Several Lead Members of KE Bangalore and KEL, Dubai participated in this event and shared their thoughts and experiences with around 150 students that attended this event.
Final year students who want to be entrepreneurs and have a business idea that needs to be nurtured and mentored, can get in touch with KE Global through email on info@kanaraentrepreneurs.com.  The mentoring support is available to all final year students from all colleges in and around Mangalore.