Kanara Entrepreneurs Bengaluru conducts leadership workshop
Bengaluru, Sep 23: A vehicle needs to be serviced regularly to give a worthy performance. On similar lines, entrepreneurs and business leaders too, need to sharpen their skills and need to be informed about the latest business trends. It is important for entrepreneurs to evolve in order to be in business and dress as required for the occasion. Keeping these points in mind, Kanara Entrepreneurs, Bengaluru held a full day workshop on Leadership and Skill Development, on Saturday, September 21 at Hotel Grand McGrath here.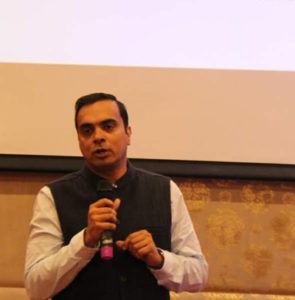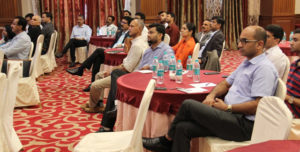 The event commenced at 9 am with an opening prayer by Stan D'Souza. Charles Gomes, President of KE Bengaluru welcomed the delegates and guests, and spoke about the need to have such workshops to build business leaders from the community.
The agenda of the Workshop unfolded with a thought provoking session by Dr John Tharakan, Founder & CEO of BE-IVY Education, who spoke as to why it is important for entrepreneurs to have sound mental health and stress management skills. In the wake of the latest incidents of established and veteran business players succumbing to pressure, Dr Tharakan emphasized on the need for an entrepreneur to get organized, have self-made targets and also maintain good mental health, even as most of us give importance to burning those extra kilos.
After the session by Dr Tharakan, Shantanu Patnikar, Co-Founder & Partner with InsiWi Solutions, took the audience down the social media lane. He spoke about the perspectives of digital Marketing and the need to upgrade our businesses into forward trending with available apps and social media platforms, that people are hooked on to, in order to get more visibility and promotion.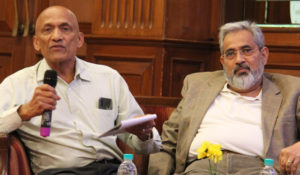 In the following session Siddalingappa Pujari and Hemanth Kumar from the Department of Industries and Commerce, Govt of Karnataka shared some vital information about government schemes, subsidies and loans that entrepreneurs could avail of, from the government departments.
On returning from a quick tea break, a panel discussion moderated by Ivy Saldanha, Head, Human Resources, Tata Power Company, touched upon the need for building business leaders in the community and industry. The panelists emphasized on the need for ethical business practices, servant leadership and other similar prodigies which go a long way in establishing business goodwill and help entrepreneurs to become leaders and role models for the next generation. Suresh John, founder, IDS Next, Colin Timms, Chairman and Founder, Guardian Bank, David Lobo, Chairman of Deejay Group, and Anand D'Silva, Associate Director Human Resources @ DXC Technology were the esteemed panellists, who are also leaders in their own lines of trade.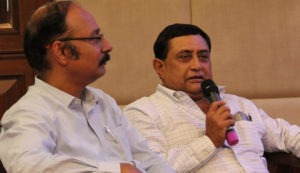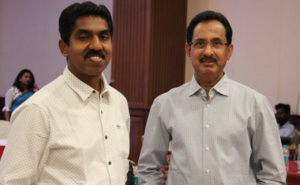 Post a sumptuous lunch, Adrian D'Souza, Co-Founder and Managing Director of Deccan Group Pvt Ltd Manufacturers and Exporters, who was the moderator on the panel to discuss business endurance and staying afloat with the ongoing economic slowdown, brought out some wonderful experiences and suggestions from the panellists that are required of an entrepreneur in order to guard the fort during stormy situations. Austin Roach, RBD Shelters, Clarence Pereira, Director and Co-Founder at the Deccan Group of Companies, Anil Francis Rego, Founder and CEO at Right Horizons, Naveen D'Souza, Chief Executive, Souza Technologies, Director, Zolarex Renewable Energy Solutions LLP, Roshan D'Silva, Founder, Tripvillas who are also accomplished purveyors in their own right, added value to the discourse with their expertise on the subject.
The icing on the cake was some essential awareness on balance sheets, P&L conciliations and such financial classifieds, provided by none other than the financial expert Mark D'Souza, a renowned chartered accountant. The rather boring topic of Understanding Financial statements was made lively by Mark with some simplified notes and necessary satire. Mark, in his usual signature style, ensured the audience understand the ground realities and explained the need for entrepreneurs to follow ethical accounting practices as well as elucidating accounting procedures by hooking on to modern and integrated accounting software.
All the panelists, moderators and speakers of the day's workshop were felicitated by members from the BOD. Charles Gomes proposed the vote of thanks as well as delivered the closing remarks. He thanked all the speakers, moderators and panelists for their valuable inputs. He thanked the volunteers for the programme, the BOD of KE Bengaluru and the delegates present. A special mention was made of Pramod D'Souza and Roshan D'Silva, who stitched together the entire programme and spearheaded the series of events of the programme. The programme got an overwhelming feedback and all the participants expressed their gratitude to KE for organising the workshop. Carol Pereira did an exceptionally good job by compering the entire programme and ensuring the flow of events unfolded as expected.