KEL Dubai hosts a successful event on FUTURE PROOFING CAREERS
Dubai: Kanara Entrepreneurs Ltd. (KEL) Dubai, hosted a very successful event recently for its members at Ivory Grand Hotel Apartments in Dubai. The non-profit, mutual benefit corporation chartered and founded by individuals from the Kanara region, to encourage, support, guide and nurture entrepreneurship, has been serving the community in Dubai for over 15 years
The theme for the event 'Future Proofing Careers – Transforming to Perform' did appeal to the audience who came from different age groups and walks of life. As usual, it was a well-attended event, that provided valuable insights and inputs to the members and guests, aspiring entrepreneurs and job seekers alike on how to deal with the unprecedented disruption across various spheres of life, which included businesses and professional careers.
The theme of this event revolved around a panel discussion with some of the eminent faces in Dubai and moderated by one of the finest business journalists and Forbes contributor Ms. Natasha Dsouza. The panel of expert speakers comprised of
Sheila Nazareth – Senior VP, Business Strategy & Value Delivery, Emirates Airlines;
Marilyn Lydia Pinto – Founder & Managing Director, Kids Finance Initiative;
Charmaine Dsouza – Director, Experience and Strategic Partnerships, Palmwood;
Martin Victor Alva – Director, Digital Transformation & Customer Experience, RazrCorp.;
Deen Ashraf – Founder and iMagining Director, Brains at Work
As per the feedback received from several attendees, it was indeed a well-conceived and widely participated session that offered an opportunity to share enriching experiences by the speakers from different backgrounds. The audience benefitted the most, learning how and where to hit the 'refresh' when it comes to their career planning and navigating through the age of digital disruption and prepare for the exciting future.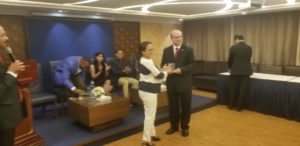 Lead member Aloysius Fernandes welcomed the gathering and opened the session, Chairman Ivan Fernandes and President Robert D'Sa felicitated the panel speakers and Associate Director Events, William Dsouza delivered the vote of thanks.